11.10.2016.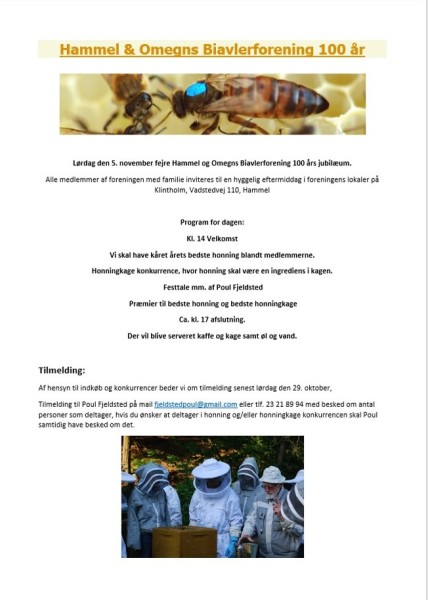 Se indbydelsen med billeder her
OBS. Honning som skal med i konkurrencen afleveres på jubilæumsdagen senest Kl. 14,30 i glas eller bæger uden navneetiket.
Lørdag den 5. november fejre Hammel og Omegns Biavlerforening 100 års jubilæum.
Alle medlemmer af foreningen med familie inviteres til en hyggelig eftermiddag i foreningens lokaler på Klintholm, Vadstedvej 110, Hammel
Program for dagen:
Kl. 14 Velkomst
Vi skal have kåret årets bedste honning blandt medlemmerne.
Honningkage konkurrence, hvor honning skal være en ingrediens i kagen.
Festtale mm. af Poul Fjeldsted
Præmier til bedste honning og bedste honningkage  
Ca. kl. 17 afslutning.
Der vil blive serveret kaffe og kage samt øl og vand.
Tilmelding:
Af hensyn til indkøb og konkurrencer beder vi om tilmelding senest lørdag den 29. oktober,
Tilmelding til Poul Fjeldsted på mail fjeldstedpoul@gmail.com eller tlf. 23 21 89 94 med besked om antal personer som deltager, hvis du ønsker at deltager i honning og/eller honningkage konkurrencen skal Poul samtidig have besked om det.